MBSL Insurance signs MoU with BOC featuring it's novel appeal in banking sector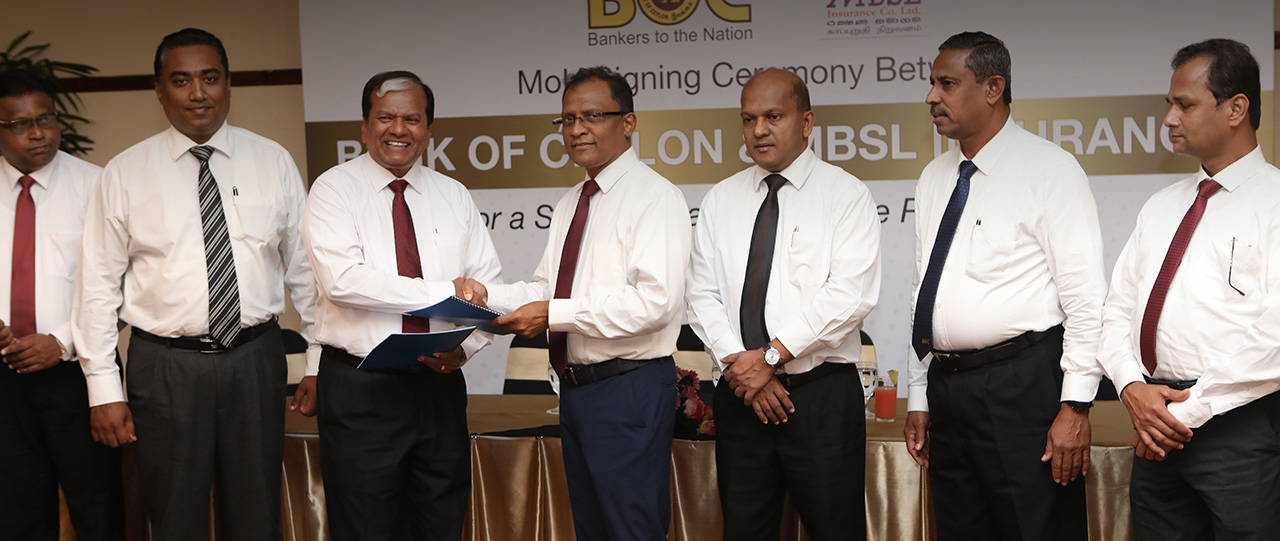 MBSL Insurance entered to a Memorandum of Understanding (MoU) with the Bank of Ceylon in order to further strengthen the Bancassurance partnership between two organizations.
This was a significant moment and both organizations corporate management members attended to the gathering. This MoU was signed to provide MBSL Insurance facilities to BOC customers.
After signing the MoU, it was exchanged between Mr. Senarath Bandara-General Manager/Chief Executive Officer of BOC and Managing Director/Chief Executive Officer of MBSL Insurance Mr. Lalith Fernando.
Mr. Bandara - General Manager/Chief Executive Officer of BOC said "This is a great opportunity to MBSL Insurance to enhance their customer base by fulfilling Insurance needs of BOC customers. BOC entered to this MoU after analyzing capacity of MBSL Insurance and I'm pretty much sure they will do a great job by maintaining high service standards. Hence MBSL Insurance has wider range of insurance products our customers also will be benefited. This will be a very good beginning of a long journey".
"MBSL Insurance back to the market with the new management team with new stragies and it is a historical occasion from the company's point of view to entering into this MoU with the BOC, MBSL InsuranceManaging Director/Chief Executive Officer Mr. Lalith Fernando said. "We are geared with novel technological developments and products to provide efficient service to the customers and we welcome BOC customers to tie up with MBSL Insurance to fulfill their Insurance needs. While thanking to the BOC management to the opportunity I assure we will maintain high level of customer satisfaction," Mr Fernando added.
It must be a great privilege for the MBSL to enter into a MoU with a bank like BOC which has now completed more than seven decades of glorious existence in the banking sector.
The Bank is firmly entrenched as Sri Lanka's premier financial services organization offering a broad range of services consists of commercial banking, trade finance, development financing, mortgage financing, lease financing, investment banking, corporate financing, dealing in Government securities, pawn brokering, credit card facilities, off-shore banking, foreign currency operations and other financial services.
BOC holds the leadership position in its assets, deposits, and foreign currency remittances.